The ProntoForms App
Field workers fill out and submit mobile forms such as inspections, work orders or sales orders using their smartphone or tablet. The collected data is submitted back to the managers' ProntoForms Web Portal in real time.
Customize the app for

your

business, with

your

own forms
Send error-free forms to the office in real time and get more done every day!
Add rich data into forms (signatures, photos, barcodes, GPS and time stamps...)
No cellular or wifi connection required to fill out mobile forms
ProntoForms APP FEATURES
The ProntoForms Web Portal
The ProntoForms Web Portal enables your administrators to manage forms, users and all incoming and outgoing data.
Create

unlimited

mobile forms, entirely

customized

to your specific needs. Your forms are available for use on your field user's smartphones and tablets
Dispatch partially-filled forms to the field, either to individual users or entire groups
Set up and manage your data connections - send field data to cloud services or your back office
ProntoForms WEB PORTAL FEATURES
Connect Your Data
Bring it all together with out-of-the-box, two-way data connections between ProntoForms and your back-office system or cloud service of choice (Box, Salesforce, Dropbox, Sharepoint, and many more).
Send

your business data, such as price/parts lists, from your back office, and make it accessible right into forms in your user's devices

Receive

form data collected in the field: popular cloud services, FTP/HTTP sites, your back-office... or simply as PDF to email
ProntoForms DATA CONNECTIONS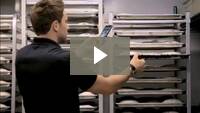 Before, by the time we did the report and the franchisee got it, it was two weeks. Now, the franchisee gets it within an hour after we leave their store.
Jet's Pizza
for Restaurant Management

+ Watch customer videos
---
What you need to know about ProntoForms...
it works with any mobility carrier of your choice
it is completely customizeable to your needs and industry
your forms are private, no one else can see or use them
the app is compatible with all the latest mobile devices